Shuttle - Pensacola Airport to or from Pensacola Beach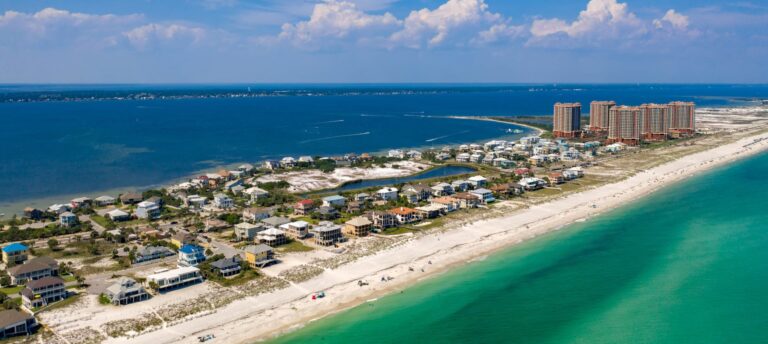 What is the Distance from Pensacola Airport to Pensacola Beach FL
Addresses on Pensacola Beach can be anywhere from 15 to 22 miles from the Pensacola Airport, with the longer distances when traveling to or from the Fort Pickens area.  Your transit time to or from the Pensacola Beach area should average 30 to 45 minutes in normal traffic. Extra time should be added during our Spring and Summer Season (March through September) and on the weekends. If you are scheduling a pick up for transport to the Pensacola Airport, you should schedule the pick up at least 2 hours prior your departure time. 
Why Choose Our Shuttle Service?
We have been serving the Pensacola Airport for the past 7 years and during that time have transported thousands of satisfied customers. Our success can be attributed to building up a solid base of repeat customers by offering an affordable rate and providing the highest quality service in the local area. We provide easy online booking and keep in communication with the customer all the way until the day of the pick up.
Flying in or out of the Pensacola International Airport
The Pensacola Airport (PNS) is located approximately 15 miles from Pensacola Beach and 6 miles from the down town area. A total of 7 airlines fly in and out of PNS (American, Delta, Frontier, Southwest, Silver and United).  PNS is the only airport in close proximity to Pensacola Beach.  Transportation options are shuttle services, airport taxis, Uber and Lyft.  Out of all the transportation options, our shuttle service is by far  the best value for your money. We provide a prompt, safe, reliable ride and maintain immaculate vehicles. And we charge an affordable flat rate. Airport taxis can be rather expensive in high traffic since they charge not only for mileage but time in traffic. Uber and Lyft lack consistency in pricing and reliability.   
Ride Share versus Direct Shuttle
To distinguish a ride share shuttle from a direct shuttle, a ride share will make multiple stops and pick up multiple passengers. Our service, for the most part is considered a direct shuttle since we primarily provide door-to-door service. On occasion,  there may be another stop along the way.   A private shuttle option is available for an additional fee for those that do not want to make an additional stop to pick up other passengers. 
Our rates are based on a fixed rate that covers two passengers. There is a additional charge for each additional passenger. Our posted rates may vary throughout the year, but are good for 60 days of rates posted on our website. For the current rate for transportation to or from the Pensacola Airport, check out our rate page. If you need a rate for a  an area not listed on our rate page  please go to our get a quote page.
Things to do on Pensacola Beach